Basically, our goal is to provide you with very high quality service to facilitate your admission into the Degree Programme in our University and other Universities within and outside Nigeria.
Indeed, your journey of success in life begin with a step. Therefore, your step into the School of Basic Studies of our unique University of Port Harcourt is a step in the right direction, that shall not be regretted at all, if only you as students show some level of commitment.
So, you are here for a remarkable journey and the School of Basic Studies orientation exercise which is the first activity in our programme is compulsory. During orientation, you will meet the staff of the School, and learn more about strategies for successfully adjusting to life in a Tertiary Institution, practical and valuable information on the School's policy, programmes, and services etc. that are available to help you succeed in the School.
Your success is our joy and pride; therefore, we are committed to helping you succeed by providing the following: textbooks, tutorials, University Tertiary Matriculation Examination (UTME) preparatory classes, guidance and counseling, health services, Student ID, etc. Do not hesitate to contact us in case you are uncertain about anything or need any assistance. We are here to guide you attain your goal.
Remember that you are not yet admitted into the degree programme and so I am counting on you to achieve your full potential. the following are helpful hints:
Do not be overwhelmed by the size of the lecture auditorium and students in your class set. Attend all lectures and tutorials judiciously and be punctual
Prepare a personal study timetable and keep to it. Prepare for the next class by reading the topics to be covered. The journey to success is not easy, so cultivate good study habits. You may not be required to submit class assignments but do them all the same
spend more time studying and less time chatting, gossiping, partying or trying to engage in unethical activities. Do not waste your time over unimportant matters like Face book, WhatsApp and other forms of social media.
Be optimistic, work hard, ask questions and do not be discouraged by the multitude of distracters peddling printing materials around the school.
if you have a poor secondary school background, you will have to study more.
Remember that the Basic Program is for hard workers who are consistently engaged in activities that will enhance their performance.
Time management is important, you have less than a year to spend in the school. Make the best of it.
As an open and responsible administration, we are open to your useful and purposeful complains, as well as suggestions, constructive criticisms that would help management to improve on its core mandate of delivering efficient and effective to service to humanity and God. You are sure of a listening ear, if you can open your mouth.
Once again, congratulations and welcome to the School of Basic Studies, a factory that prepares/trains Academic Giants for the unique University of Port Harcourt and the Nation at Large. Bravo!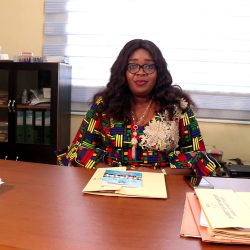 Dr. Udeme Georgewill
Director School of Basic Studies (SBS)